 During your first appointment, you will be guided through our unique timeline history and other personalized assessments. You will leave with a customized plan to begin breaking free of your symptoms. We see patients locally, across the country and internationally. Technology now provides us with secure private virtual home visits in addition to in office evaluations. Communication and Relationship
We provide a plan, a partnership.  We believe that your health story holds the answer to your current state of health and how to best return it to optimal health.
Breakthrough Your Recurring Symptoms- The Steps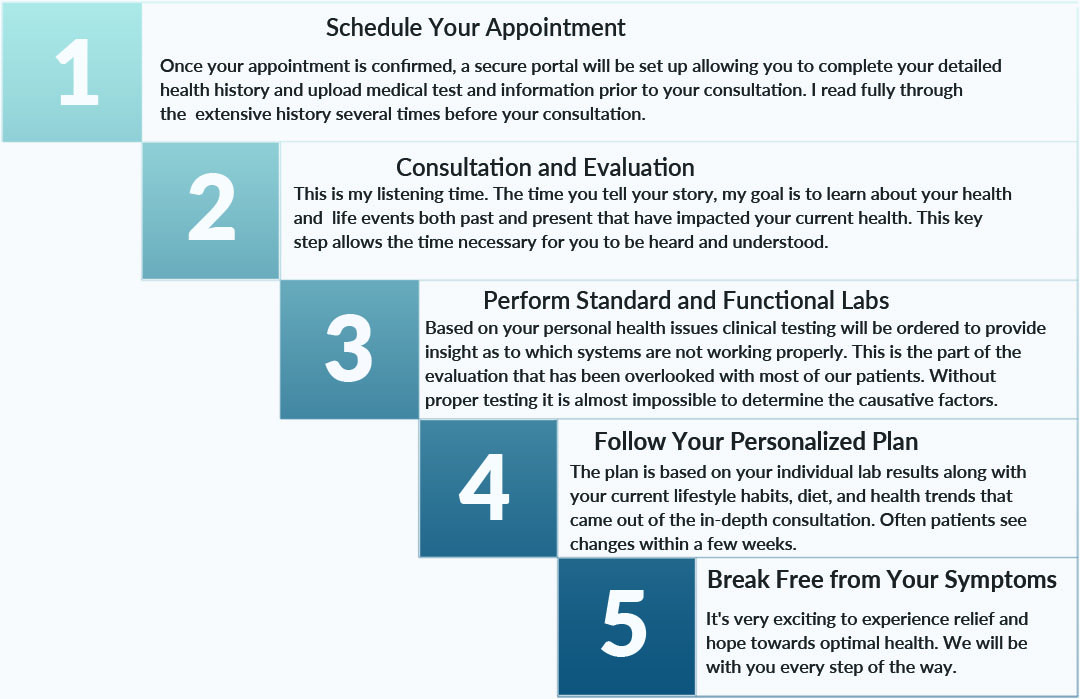 I just want to thank you again for giving me something to live for. When I first came to see you, I felt like a slug. I had NO energy at all. My mouth was sore with thrush, and I felt as though I was of no use to anyone. Thanks to your and your staff, and loving care, I am now a different person. 
ll have looked a long time to find a doctor like you. I've tried top get in shape but was told to eat all the wrong things. You taught me right and I lost 40 pounds. I am 50 years old but feel like I'm 25.
You not only healed my body, but my mind also.
I fell so fortunate to have made my first phone call to Dr. Petro's office seeking help with physical ailments that continued to tax my tolerance level and rob me of the joy of living. I was amazed by Dr. Petro's ability to identify the underlying problems. For the first time, a doctor that really listened and made a genuine effort to map out a road back to better health. It wasn't just because "I was getting older!"
What Makes Our Healing Process Unique?
Our Health Restoration Program looks at defining why a individual's health is not functioning properly. This is done through specific testing including revolutionary microbiome and genetic testing not looking at what specific diseases a person might acquire but rather what are the genetic variations that can be limiting optimal health. Once we have a clear picture of the limitations a plan is developed to upregulate the suppressed systems leading towards regaining optimum health.
What's Waiting Another Day Costing You?
How long do you want to keep guessing at how to get better?
How many days of missing out on the fullness of your life can you take anymore?
What if you didn't do anything and you actually got worse?
For the majority of patients, Dr. Petro uses virtual care. It's an amazing technology that allows him to work with patients around the globe. The majority of patients prefer this appointment style. There is no waiting, no travel and done in the privacy of your home or office.
We welcome you to our office in beautiful Whitefish Montana where small town charm meets world class hospitality. It borders Glacier National Park, Whitefish Ski resort and a multitude of other destination activities.
Meet with Dr. Petro in person and share the experience of solving your health care puzzle and develop an optimized program. It is common to come for your Discovery session and then follow up with virtual care.
Chronic symptoms are the first step towards permanent symptoms. Let us help you release those.
100 E Second Street Suite 221
Whitefish, Montana 59937
406-998-1433
844-349-7555
Fax 406-215-2804
Office Hours:
Mountain Standard Time
Monday       8:15 - 4:00 pm
Tuesday       8:15 - 4:00 pm
Wednesday 8:15 - 4:00 pm
Thursday     8:15 - 4:00 pm
We are flexible to patients in other time zones.
Health Conditions Treated